Win a superb gift box in our giveaway!
Posted On
March 2022 giveaway
Often it's great to have some snacks to go with your cocktails. That's why were are delighted to have joined up with over 100 other bloggers to give you the chance to win a superb gift box in our giveaway this month! The prize is a Marks and Spencer Hampton Gift Box, which contains all sorts of goodies, including hand-cooked crisps, crackers, peanuts, chocolates and more. Although the hamper does not contain any alcohol, it does include a bottle of Normandy apple and pear juice, which would make an interesting mixer in a Hot Apple Martini, Quarantini or Copacabana.
Read on to see the full list of contents in the gift box. All of the products are sold by M&S Food, who are renowned for their premium quality offerings. The contents of the gift box are suitable for those following a vegetarian diet, and some of the products are suitable for vegans. It is not suitable for those who are allergic to nuts or peanuts. Good luck!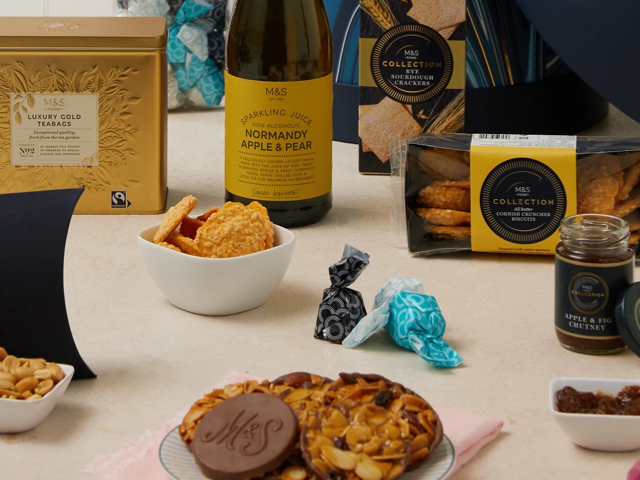 How to enter
There are loads of ways to enter to win this superb gift box in our giveaway. Scroll down to the Rafflecopter widget below to see all of the options. Make sure that you enter before the closing date (23rd March, 2022). The terms and conditions are also shown below, as well as all of the blogs taking part. Please take a moment to visit them to show your support.
Bloggers Taking Part
Here is a list of all of the bloggers taking part in this giveaway – please show your support by visiting them.
| Mortgages After 60 | Madam Blunt | Valid Articles | Frugal Blogger Eats | Homescapes Interiors | BPA Free Kids | The Everyday Domestic | Maternity Money | Tadof | Life Changing Side Hustle | Successful Mess | Buddin a Community Garden | Fun Free and Frugal | Shake a Cocktail | Karen Appleyard | Money Matters UK | Your Property Your Life | Sit and Take in the View | Live Well Way | Life and Style | Not Got a Clue | Life Style Saving Techniques | Real Girls Wobble | Lifestyle Original | Our Handmade Home | Mums the Wurd | Houston Marcha | Introverted Travel Space | The Happy Piggy Bank | Esp Italia | Sweet Oven Lovin | Money Saving Tips 4 U | Robyn's Photography Academy | Robyn's Photography | Balance the Budget | Life with more Sparkle | The Elements of Blogging | Bitten Food | The Travelling Type | Matched Betting Today | Live Life Love | The Money Raven | The Thrifty Princess | Bark and Bites | The Work Place Designer | Mum's Guide to Life | Craving Christmas | You can make Money on the Internet | In Home Insights | Manifest with Loa | Project Poppet | That Copper Life | The Free From Mummy | Health & Beauty Tips | Sahara Vibes | Swift Earning | Filuv | Lifestyle of a Londoner | Pesto and Margaritas | Our Life Interrupted | Crafting Her Blooms | Single Dads Guide to Life | Travel Bugs | Discover Kent | A Little Luxury for Me | Ericales | My Next Wedding | All Sorts of Jazz | Fully Money | Make a Little Money | Christmas Ahoy | Several Ways To | Better Best You | Nishiv | Vegan Book | Michelle Amy Weddings | Love Our Home and Garden | Spiritual Life Learning | Know Health | Kiddoco | Garden Teacakes and Me | Discount Days Out | Gin and Gemini | Bujo Heaven | The Shop for Her | Big Boys Cry | Accounting Page | Active Gardening | Pickles in Paradise | A Little Life of Lovely | Gepun | Birds and Lilies | Notes From a Kitchen | Sand and Sunshine | Go for Lifestyle | Great Yoga Tips | Wake Up It's Monday | Have a Fab Day | Mrs Money Pot | Body Potency | London Fridge | Hello Sixty | The Parenting Insider | Side Hustle Q&A | Mudpies and Rainbows | Bells and Bouquets | Houston Marcha | Valid Articles | Homescapes Interiors | BPA Free Kids | Frugal Blogger Eats | The Finance Fettler | Doing the Impcosible | Multitasking Mama | Dieut | Cintas Planet | Eikad | Guide to World Travel | Money Money Money Online | Guide to Health & Fitness | Thrifty Husband
The Prize
This prize is a M&S Hampton Gift Box.
Gift Contents
Hat Box
Collection Italian Chocolate Assortment (300g)
Luxury Gold Tea Tin (250g/80 bags)
Collection Apple and Fig Chutney (100g)
Sparkling Normandy Apple and Pear Juice (75cl)
Collection Rye Sourdough Crackers (130g)
Collection Black Truffle and Olive Oil Hand Cooked Crisps (150g)
Roasted and Salted Large Peanuts (200g)
Collection All Butter Cornish Cruncher Biscuits (80g)
Collection Belgian Milk Chocolate Florentines (170g)
Terms and conditions
1. There is one top prize of a M&S Hampton Gift Box.
2. There are no runner up prizes.
3. Open to UK residents aged 18 and over, excluding all bloggers involved with running the giveaway.
4. Closing date for entries is midnight on 23/03/2022.
5. The same Rafflecopter widget appears on all the blogs involved, but you only need to enter on one blog.
6. Entrants must log in to the Rafflecopter widget, and complete one or more of the tasks – each completed task earns one entry in the prize draw.
7. Tweeting about the giveaway via the Rafflecopter widget will earn five bonus entries into the prize draw.
8. 1 winner will be chosen at random.
9. The winner will be informed by email within 7 days of the closing date and will need to respond within 28 days with their delivery address, or a replacement winner will be chosen.
10. The winners' names will be published in the Rafflecopter widget (unless the winner objects to this).
11. The prizes will be dispatched within 14 days of the winner confirming their details.
12. The promoter is Drew Media LTD t/a www.MakeMoneyWithoutAJob.com
13. By participating in this prize draw, entrants confirm they have read, understood and agree to be bound by these terms and conditions.
Enter now
Simply complete any or all of the Rafflecopter entry widget options below to be entered. You can also tweet about the giveaway daily to earn bonus entries.
a Rafflecopter giveaway